Embracing the Change
School seasons have begun, with which comes inevitable change. Changes in teammates, coaching staff, opponents, team dynamics, abilities, and roles on the team. For some, there can be seemingly larger change, your position. Oftentimes, the outlook of playing a new position can be slightly negative, so let's examine the positives behind a position change and ways to embrace the change.
As an independent/private consultant for many athletes from a variety of clubs, schools and ages, I've received many distraught phone calls and met with many concerned families whose athlete has been asked to play another position. Occasionally, there is an optimistic reaction to the change, however it is usually occurs when the change is caused by something out of the athlete's  control, such as a teammate's injury, sickness or absence in which you, the right side hitter must set….. or "worse"…. play middle! These situational and temporary changes are more acceptable when proposed by the coach.
But regardless of whether the change is temporary or not, there is still a hesitation and doubt because it is a "new position" that you "don't know" and feel limited in knowledge and confidence. And the lesson requests begin. When working with athletes who are faced with position changes typically I find that only 30% of the time is spent developing technical skills; the rest of the time I spend helping you realize you already know more than you think.
In your head, it's like the game has changed and your armswing has somehow been handicapped by the new position. You suddenly can't jump high enough to block, or see the ball on the right side like you can on the left.
If players (and coaches) want more productivity in an unfamiliar position, I think it's important to realize what hasn't changed:
The net height
Your armswing
The rules of the game and court size
You can still play with the same intangibles as though your opponent doesn't know that you are playing "out of position"
I find this mindset helps get to the confidence level which bypasses any differences that actually may exist.
There are some situations where I've observed the reaction to the change to be quite pessimistic and debilitating.
You play a certain position in club but will only make your high school team if you play a completely different position. ie: You play outside in club, but will only make your high school team if you set.
You want to play one position in college but you have to play an entirely different position for your high school team. ie. You want to play libero, but you have to play right side in high school and don't play all 6 rotations.
The concerns are often:
"I want to get recruited as an outside hitter, I won't get seen if I'm playing libero."
"I don't want to play setter because I'll lose reps at hitting and will fall behind for club tryouts."
"If I can't play middle this season, I just won't play here."
"I can't play right side, I'm no good at it because I've always played (insert other position)".
I am not here to downplay your concerns. However, there is more positive perspective to these seemingly debilitating scenarios.
The solution is in your mindset.
How do you already know what's going to happen if you play another position?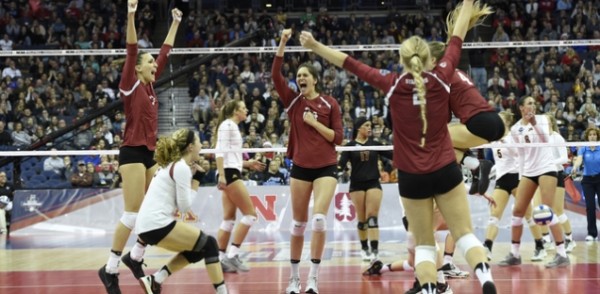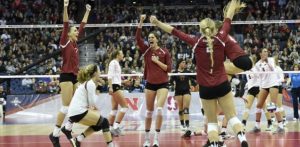 For example, Stanford won the 2016 NCAA D1 National Championship this past season with 4 starting freshmen and at least 3 key players playing in different positions than they played the year prior. Changes were made and instead of questioning Head Coach John Dunning's decisions, they decided to get 2% better every time they trained and competed. This is how they went from losing a lot at the beginning of this season, to chipping away at opponents who were projected to beat them, and picking up momentum at the end of the season when they needed to peak.
Misty May Treanor was one of the top high school outside hitters in the country (and a sophomore on a team of juniors) in 1992 when we played on the U.S. Jr. National Team together. She was explosive off the ground and hit with such precision and power for her size and age. You can imagine the surprise to all of us when Long Beach State trained her as their starting setter, and the rest is history. She could have made other decisions, but she was a well rounded player, accepted the change and embraced being a setter.
I also offer you my personal testimony as to how a change made me better. I was a middle blocker all the way through college at the University of the Pacific in Stockton, California. I had never played any other position. At the time, John Dunning was the head coach, and although we had defensive specialists at UOP, I played all 6 rotations. I helped our team finish top 10 or 20 nationally every season, but I wasn't an Olympic hopeful.
Upon graduating, my fire was still lit and I wanted to pursue a professional volleyball career. I landed a spot on one of the first successful attempts at an indoor professional team in the U.S.: the USPV. I trained in Chicago for 1.5 years under Arie Selinger, as a middle blocker. We were all terrified with respect. With 1 month until the Millenium Cup featuring Poland's national team, 2 top Japanese Pro teams, and our USPV All-Americans split onto 2 teams, I broke a bone in my ankle that limited my jumping.
I rehabilitated as fast as I could, but the trainers were still not confident in my live play. However, there was this NEWLY INVENTED international position, called the LIBERO. It didn't require any jumping and since I was already a veteran 6 rotation passer (even as a middle) I took to the position quite naturally. I loved wearing the "other color jersey" and I was on the court ALL THE TIME.
Fast forward 1 year, our "dream team" formed a league and created 4 teams. I was drafted onto the Minnesota Chill, based in Rochester MN. At the head of our team were coaches Tore Aleksandersen and Kevin Hambly (who at the time was Toshi Yoshida's Assistant Coach for the U.S. National Team). Kevin brought all the USA techniques into our practices.
I tested the waters at being a middle blocker again, but upon understanding what these U.S.A. passing/defensive techniques were used for and how they simplified my movement, I found a new home as the libero. I ended up developing into a better libero than I ever was as a middle blocker because once I learned what I was trying to get the ball to do; I incorporated my attacker's mentality. I understood game flows from an offensive point of view. I knew when the opponents middle wanted to hit a cut back shot at me based on her positioning to the ball and her prior attack choices. I had control of the tempo of the game on free balls. I could make our middle blocker get up faster and beat the block (even when she didn't know the block wasn't ready). I played games with the server by showing her certain body languages and standing in unconventional locations, she had to serve it where I could intercept it.
These competitions made the game so much more fun and in the end, Kevin called Toshi and said something to the effect of, "I have a 6'1″ libero who was voted best in the league and may contend with Stacy (Sykora)."
Upon conclusion of winning the Inaugural USPV League Championship, I was invited to move to Colorado Springs to train for a spot in the 2004 Athens Olympics. This was about 4 years after I graduated college, in a position that didn't even exist when I was middle blocker, and using techniques that I just learned that year. Although I was a middle for 90% of my career, the position that I played for only 10% got me to higher levels than I was ever going to go. Everything about my path was unconventional and unpredictable. Including back surgery my freshman year at UOP.
My point…….
How do know that an injury won't be a blessing in disguise?
How do you know that "wasting time" developing setting skills will interfere with your mission to be an outside hitter?
How do you know that a college recruiter won't see you as even more intriguing because not only do they like you as a middle blocker, but you can set too?
What if Misty May told her Long Beach Coach "No, I am a hitter and I just want to hit"?
What if I had let my unconventional path be a reason to not pursue the highest level?
What if Stanford's freshmen said, "I don't know how to play in the Final Four"?
Acceptance, malleability, and technical development are key factors when it comes to change. 
You may ask, "but if I jump, what if I fall"? And I ask you, "but what if you fly"?
Go, be a student of the game. Embrace when the game changes for you. Be brave in the face of challenge. Inspire others with your play. And love it!
ARTICLE CREDIT: Addie Hauschild-Willis http://www.jvaonline.org/blog/changing-positions-embracing-change